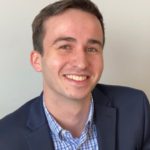 Congratulations to Junior Biology major Nicholas Blount on his selection as First Place Winner for his poster presentation within the Ecology and Evolution subdivision at the 14th Annual Regional Undergraduate Research Symposium at William Paterson University of New Jersey, conducted online this year on Saturday, April 17, 2021.
Nick is a research student of Dr. Melkamu Woldemariam, and participated with Woldemariam lab student Harish Rajagopal in the symposium, which attracted students representing more than a score of institutions, located primarily in the Northeast. The symposium highlights undergraduate work in the research areas of Physiology, Behavior, Cell and Molecular Biology, Genetics, Ecology and Evolution, and Environmental Science.
"It was great to be able to represent my colleagues and the TCNJ Biology Department in this regional event," stated Nick. "I'm looking forward to continuing my research to gain a better understanding of the maize herbivore defense pathway."
That research involves a maize (Zea mays) gene believed to have a novel function in the orchestration of plant defense responses. The Woldemariam Lab has generated maize plants in which this gene has been compromised by a transposon insertion, and compared the defense responses of these mutant plants with normal plants that have an intact gene.
In experiments which have included comparison of the global defense metabolome of these plants, assessing hormone-level differences, and testing the performance of specialist caterpillars (Spodoptera exigua) on the mutant plants, Nick found that mutations in this gene affect a significant portion of the plant's chemical profile before and after feeding by caterpillars. Currently, he is conducting follow-up experiments to clone the gene and test the biological activity of the protein that it codes in vitro. Determining the function of this gene will allow us in understanding how maize plants regulate their defense responses against caterpillars, and its contributions to the effort of protecting maize plants against caterpillars.